BCS-460 Brewery Control System
Quick Overview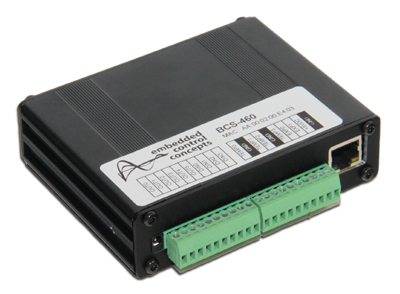 BCS-460 interactive temperature controller.
4 temperature inputs
4 discrete inputs
6 discrete outputs (6 PWM)
Removable terminal blocks, included AC/DC power supply, Heavy duty aluminum enclosure.
Details
Web-based User Interface
The BCS series' user interface is all web based. Monitor and control temperatures and processes on your browser from any computer (or smartphone) anywhere.
Temperature Sensor Inputs
The BCS-460 allows up to four independent temperature sensors to be monitored simultaneously. Inputs can be any NTC thermistor based sensor with a 10Kohm ambient reading. Use our sensors, or purchase/build your own. Just set the temperature coefficients that are provided by the sensor manufacturer into the BCS-460, or calculate them based on experimental data.
Inputs / Outputs
Along with the four temperature sensor inputs, the BCS-460 provides four 5V discrete inputs, and four web-based user inputs. All inputs can trigger controller responses. Six low-current 5V discrete outputs are provided for relay control. Each output can be set to be controlled directly, differentially by a temperature input, or under complete PID control.
Affordable expansion cards are available to increase the number of digital inputs and outputs. The Digi16 expansion card adds 12 outputs and 4 inputs. The interface supports upto 4 Digi16 expansion cards, for a total of 54 outputs and 20 inputs!
Advanced Data Logging
Data is logged internally in the device, and displayed on your browser, or saved as a text file. The BCS-460 supports internal logging of four signals up to 4k samples each. The user can set the frequency of the samples anywhere from 1 second to 6 hours, resulting in trace lengths anywhere from 1.1 hours to 2.8 years long.
Programmable Processes
A revolutionary State Machine interface allows the user to program with simple and intuitive rules, giving the controller the ability to exhibit extremely complex behavior. The BCS-460 allows up to eight independent processes, each with eight states. Check out the documentation for programming examples.
Open Interface API
The control system from ECC utilizes a simple HTTP GET/POST mechanism to control and monitor the unit. The protocol is completely open and documented, allowing users the ability to develop third-party interfaces. Does your application require a unique GUI, or if would like to have your own data logging/graphing application? Want to link multiple BCS systems together and have them all controlled from a unified interface? The possibilities are endless. Check out our Forum to see what the community is offering.
MSRP $179.95